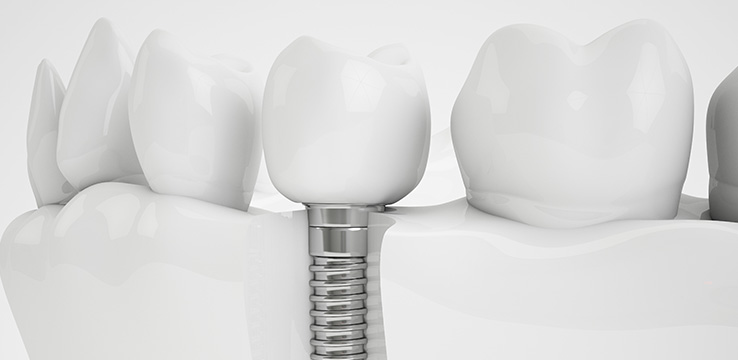 Dental implant surgery involves a number of components which vary with each individual case. This guide gives you an idea of what is involved in tooth implant surgery, and a cost outline. For an accurate quote you will need to book a consultation with Dr Ben Wilcox, where he will assess your individual case and the treatment plan that best suits you.
When considering dental implants, you need to remember these things:

A tooth should only be extracted if it is not able to be saved

If your jawbone has started to recede you may require bone grafting before dental implants can be fitted

The type of material you choose for your crowns or dental bridge will affect the cost

The number of implants you have fitted will affect your cost
---
What affects the cost?
The cost of your dental implants will be dependent on a number of variables. In your first consultation at Shore Dental, Dr Ben Wilcox will assess your individual case to decide on the required treatment and cost.
Some questions to ask about dental implant cost include:

Does my tooth need to be extracted?

Do I need bone grafting?

How many implants do I need?

What material is best for my new teeth?
---
Individual dental implants cost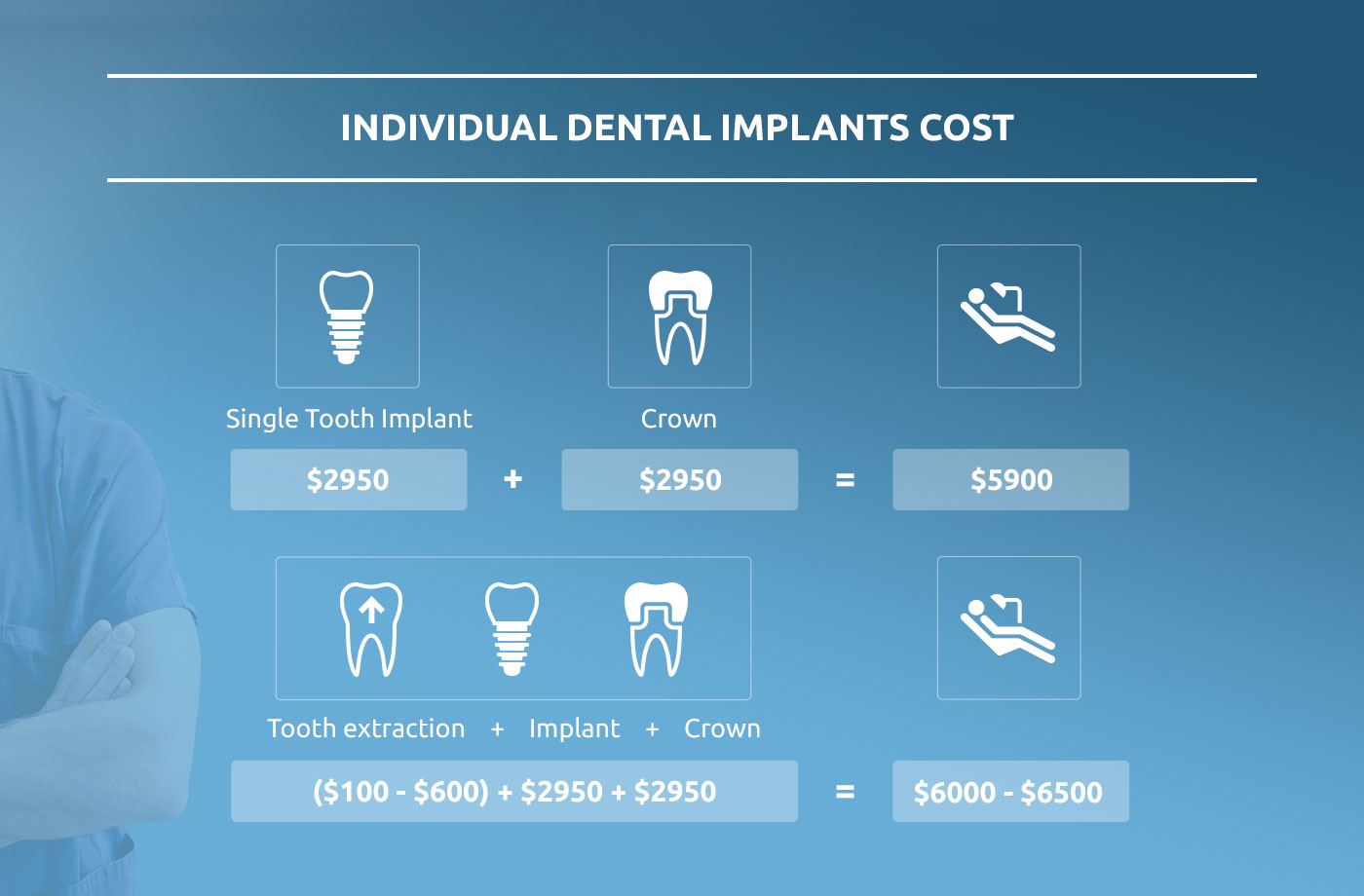 Tooth Implants and crowns are usually quoted separately for you to understand the costs of the individual procedures. It is unusual to have one procedure without the other, meaning you need to take note of the full amount of the combined procedures.
Tooth Extraction can vary in price, depending on the location of the tooth and difficulty of the procedure.
Bone Grafting procedures may be needed to build up your bone, and may result in additional costs.
Multiple implants fitted at the same time may result in a discount on your overall cost.
---
All-on-4 dental implants cost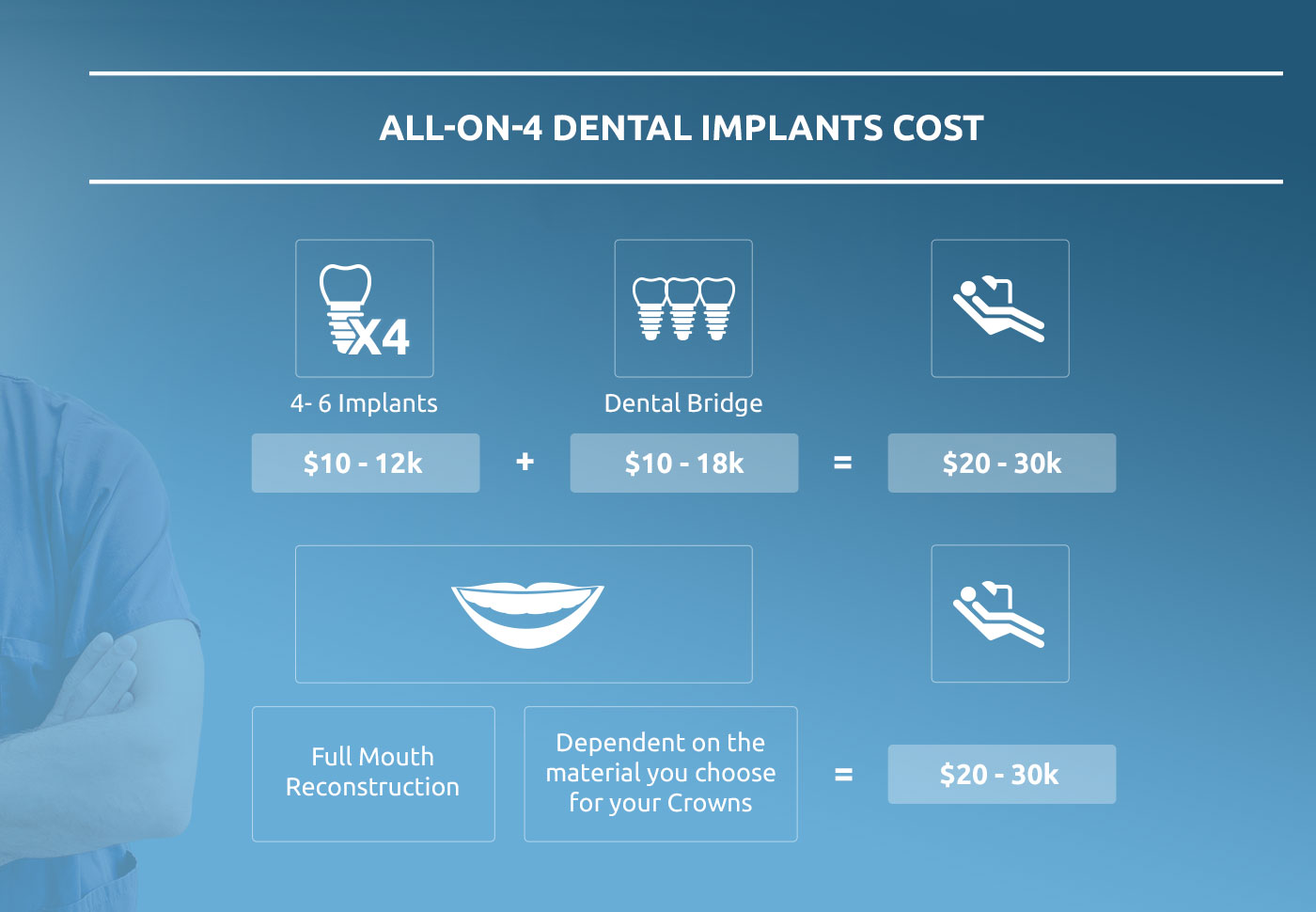 4 - 6 Implants are usually required for a full mouth reconstruction. Depending on the size, bone density and shape of your jawbone, Dr Ben Wilcox will advise how many implants you need for a full new set of teeth.
Crown materials vary in quality and cost. The weakest materials usually last a few years, and the strongest and longest lasting crowns can last a lifetime.
---
Will my insurance cover the cost of dental implants?
Many health funds offer some cover for cosmetic and restorative dentistry. At Shore Dental, we are affiliated with all major health funds, allowing you to maximise your fund benefits. To find out if your cover includes dental implant surgery you will need to contact the fund directly.
---
Are there any payment plans for dental implants surgery?
Dental implants are a costly procedure, and at Shore Dental we understand that you may have other financial pressures too. To make your dental implant surgery as smooth as possible, while being pain free on your bank account, we offer payment plans tailored to suit your individual situation.
Learn more about our finance options in our dental finance section.
---
For more information about dental implants, read our Questions To Ask About Dental Implants.