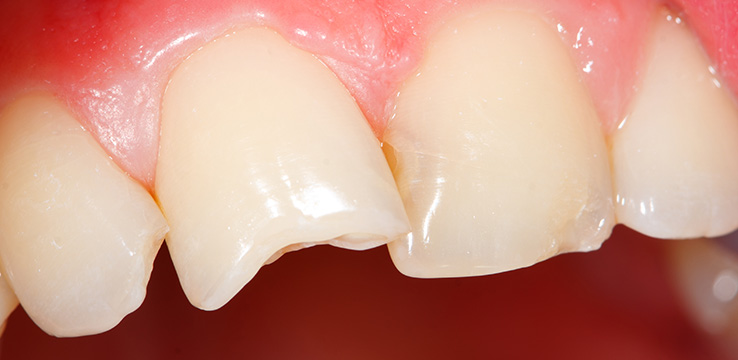 There are different types of broken teeth, some more severe than others. Sometimes a broken tooth will cause you pain, however often a small chip or crack may not cause you any discomfort. It's very important to contact your dentist immediately if you notice any chips or fractures, as leaving it may cause further damage, leading to more severe problems.
---
How can teeth be broken?

Sporting accidents

Grinding teeth (often in your sleep)

Eating hard objects like bones

A sharp blow to the mouth

Weak teeth from tooth decay

Old fillings that can come loose
---
What should I do if I have a broken or fractured tooth?
A broken or fractured tooth should be seen to as soon as possible, even if a small chip or crack is not causing you severe pain. Call Shore Dental and Julie will ask you a series of questions to determine the type of break and severity of your pain, then book an appointment for you with Dr Wilcox or Dr Cooke. For information on how to care for your tooth in the interim, read our What should I do in a dental emergency? blog. You can:

Rinse your mouth with clean, warm water

Keep your teeth and gums clean removing plaque and bacteria

Take anti-inflammatory pain medication such as ibuprofen or paracetamol

If there is swelling, apply light pressure with a cool pack outside your cheek

If your tooth is bleeding place gauze with pressure

Be sure to clean and save the pieces of your tooth for your dentist
---
How to fix fractured or broken teeth
Dr Wilcox will examine your tooth to assess the damage and determine what sort of treatment is required to either save, repair or replace the tooth. Your tooth may be repaired with either a simple composite filling, painless root canal therapy, an onlay or crown, or if the tooth is not able to be saved, a full tooth replacement with a dental implant is possible.
Chipped tooth
How to fix a chipped tooth? A simple chipped tooth can be repaired quickly and with minimal discomfort at the dentist. After assessing the size, depth and position of the chip, Dr Wilcox will likely fill the affected area with a composite filling, specially designed to replace tooth enamel. The filling is made of white resin, seamlessly bonding to the tooth almost invisibly.
Cracked tooth
A cracked tooth can require either minor or more invasive treatment, depending on the severity and size of the crack. For minor surface cracks that are not very visible and not causing your tooth any structural damage, Dr Wilcox or Dr Cooke will likely advise that you don't need any treatment at all.
For a more severely cracked tooth, there are generally two treatment courses. If the crack has not affected the nerve in your tooth, a crown, onlay or veneer fitted over the crack in the tooth is usually the solution. In cases where the crack has damaged the nerve, you may require painless root canal therapy to restore the tooth, and it would then be fitted with a crown over the top.
Broken tooth
Similar to a cracked tooth, your broken tooth may only involve a broken cusp on top, or there may be damage the nerve of the tooth. If your tooth is broken off at the bottom, without involving the nerve - a broken cusp - your tooth will likely be fitted with a new dental crown, or a porcelain inlay or onlay.
If the nerve of your tooth has been damaged, a painless root canal treatment may be used to save the tooth. If the tooth is beyond saving, you may require tooth replacement such as a dental implant.
Tooth Replacement
Severe trauma to your mouth can result in a tooth being knocked out or irreversibly damaged. In this case tooth replacement is generally the only option. Dr Wilcox will assess the damage to your tooth and your suitability for a tooth replacement. Designed for long-lasting and often permanent results, dental implants and dental bridges are the best options for natural looking, durable and comfortable tooth replacements.
---
Broken Tooth Patient Case Studies
The case studies below are all real Shore Dental patients. Their work was completed by Dr Ben Wilcox or Dr James Cooke at the Neutral Bay dental clinic. To see more real patient transformations, please visit our Smile Gallery.