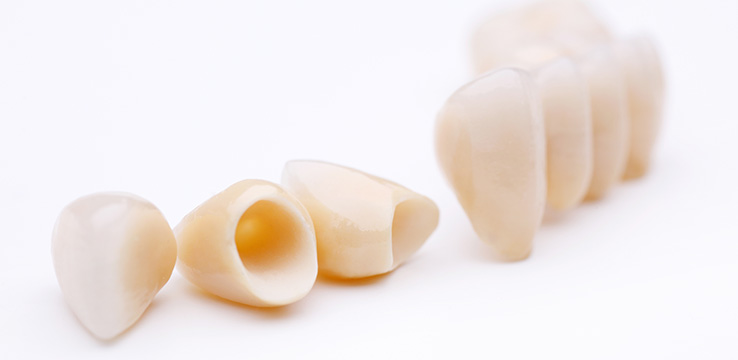 Crowns, also known as 'caps' are a structurally tried and tested treatment to strengthen the external tooth surface, improving function and appearance. They generally last a long time. A crown is a shell that covers your entire tooth above gum level. It is made from a model made from an impression of your tooth. There are 4 different materials that can be used to make a crown at the back of the mouth.
This is Tom, who has had crowns and bridgework completed at Shore Dental. Read about his story here.

---
Full Porcelain Crowns (EMAX or EMPRESS)
Advantages
Strong, WHITE natural appearance with no metal. Multiple shades, colours, transparencies and opacities.
Disadvantages
Can potentially fracture with time. Gold Crowns
---
Porcelain Crowns Fused To Metal
Advantages
White and strong, long term tried and tested solution
Disadvantages
Can look less 'toothlike' when compared to a full porcelain crown and can fracture away from the underlying metal with time.
---
Gold Crowns
Advantages
Strong, (will never break), non irritant precious metal, less removal of tooth structure.
Disadvantages
Appearance, cost of gold.
---
Zirconia Crowns
Advantages
White, full metal will never break, therefore a very strong solution.
Disadvantages
Can look lifeless – even though white in colour it can look opaque.
---
How much do crowns cost?
Emax/ empress porcelain crown $1800-$2,200
Gold crown $2,200-$2,400
Porcelain fused to metal crown $1,800-$2,200
Zirconia crown $1600-$2,200
---
Crowns Patient Case Studies
These case studies are all Shore Dental patients. The work has been completed by Dr Ben Wilcox or Dr James Cooke at the Shore Dental practice. For more examples of the work done at Shore Dental, please visit our Smile Gallery.

---

---

---

---

---

---

---

---

---

---

---

---

---

---

---