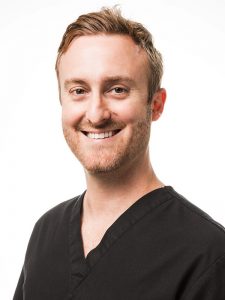 Dr. James Cooke
James is well known for his calm, confident, and empathetic chairside manner, which makes him popular across all age groups. James routinely practices all facets of dentistry, however, he has a special interest in cosmetic, orthodontic and implant dentistry.
James moved to Sydney in 2001 from the Gold Coast after being accepted into Dentistry at the University of Sydney. Throughout his studies James excelled in his year group and was awarded 3 prestigious final year awards for his skills in general restorative dentistry and periodontics. He has embraced the Shore Dental philosophy of continual learning and development with several prestigious academic achievements:
---
Bachelor of Dentistry (with Honours) – Sydney University
Bachelor of Science (Anatomy) - University of Queensland
John Stephen Hill Memorial Prize for proficiency in clinical restorative dentistry
Dr Henry Bruce Maxwell Prize for proficiency in operative dentistry
Robert and Geoffrey Morse Withycombe Prize for proficiency in clinical periodontics
Masters in Business Administration –Griffith University
---
Since graduation James has worked in several practices from as far as out as Campbelltown in Sydney's west to Macquarie street in the middle of Sydney's CBD. During this time, James has been fortunate enough to be mentored by some of Sydney's most well respected cosmetic and implant dentists. This broad spectrum of experience spanning almost 10 years has enabled him to become exceptionally skilled in all facets of dentistry and helped him in establishing a very loyal patient base.
James has been doing his own surgical placement and restoration of implants for sometime and has been a long standing member of the Australasian Osseointegration Society (AOS), the International Team for Implantology (ITI) and the Australian Dental Association (ADA). James has also completed the highly regarded Graduate Diploma in Clinical Dentistry specialising in Oral Implants, with his implant treatment planning presentation now being used as a guide for future students on the topic.
James has a very close working relationship with several local laboratories used by Shore Dental and as a result he is able to get amazing life-like results with his crowns, bridges and veneers. James is a strong advocate for the quality of Australian made materials and the superior training of Australian dental technicians, prosthetics and ceramics. The Invisalign orthodontic system is the only overseas company and laboratory that James uses in Dentistry. Based out of the USA, James has been improving patients smiles using Invisalign's clear aligner technology for almost a decade achieving stable and predictable results.
James is also proud of the time over the years that he has been able to volunteer to those less fortunate than himself who do not have access to basic dental and medical facilities. This volunteer work has seem James practice dentistry in Vietnam, East Timor and closer to home in out reach communities surrounding Alice Springs.
James prides himself on being able to understand each individuals unique dental problems. He is great at putting people at ease and making them feel comfortable in the dental chair whilst being able to find a stable, healthy, long-term dental solutions for their problems. James has a special interest in the fields of general restorative, cosmetic, orthodontic, implant and surgical dentistry, but is capable and comfortable treating the entire family for any dental problem. In his spare time James enjoys keeping active by bushwalking, mountain trekking and playing with his animals. He enjoys all sports but especially likes watching the State of Origin rugby league games played every year and supporting his beloved home state of Queensland.