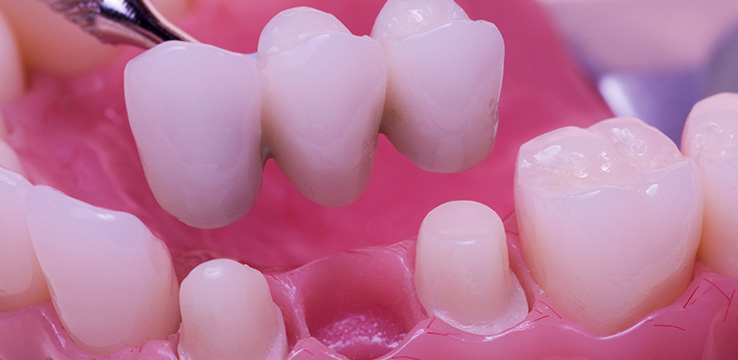 What is a dental bridge?
A dental bridge is a tooth replacement option that bonds your new replacement tooth to your healthy existing teeth. The healthy teeth are used as a platform to support the false tooth or to fix a dental bridge. Dental bridges usually require the healthy, supporting teeth to be shaped and dental crowns fixed on top, attached to the bridge to fill the gap. Fixed dental bridges can prevent problems that arise with missing teeth, including changes to your bite, teeth and normal speech, and an increased risk of periodontal disease and tooth decay.

Bridges the gap between two teeth

Maintains your healthy bite and tooth structure

Natural looking new teeth

---
What are the benefits of a dental bridge?
Dental bridges are designed to look and feel like your real teeth. Fixed to your existing teeth, they seamlessly fit into your bite for a natural looking smile.
Non-invasive procedure
Dental bridges are an ideal long term solution for patients who do not want to undergo more invasive tooth replacement procedures, or for those who do not have sufficient bone to support a tooth implant.
Improved smile
Missing teeth can cause your face to take a concave shape. A dental bridge restores your full set of teeth, maintaining the natural shape of your face and smile.
Improved eating
Missing teeth can make chewing and digesting food more difficult. Dental bridges are strong enough to withstand normal bite pressure, meaning you can enjoy your favourite foods without hassle.
Improved speech
Speaking with missing teeth can be both difficult and embarrassing. Fixed dental bridges restore your ability to speak naturally and with confidence.
Improved comfort
Dental bridges are secured to your existing teeth, meaning there is no loose, ill-fitting partial denture to worry about. Because they are fixed, you also don't need to worry about removing them each day.
Convenience
Forget about messy denture adhesives and the hassles of dining out with dentures. Fixed dental bridges are exactly that - fixed - so you don't need to worry about removing them or losing them ever again.
Improved oral health
Dental bridges help to maintain and correctly distribute your natural bite. This can help to prevent your chance of developing tooth decay and periodontal disease, both of which can be caused by tooth and bite movement.
---
Types of dental bridges
Conventional Bridge
A conventional bridge is built with two crowns that attach to your healthy teeth, or an implant on either side of the missing tooth. A bridge is then attached in between to fill in the tooth gap. Conventional dental bridges require your healthy teeth to be shaped ready for the cap or crown to be fixed on top.
Maryland Bridge
A Maryland Bridge uses metal or porcelain wings, attached to the back of the healthy teeth to support the new false tooth. Using these wings, made invisible from the front, is less invasive on your healthy teeth than a conventional bridge.
California Bridge
A Californian Bridge is where the healthy teeth are used as a support from the inside rather than the outside. Wings and inlays of porcelain are buried into the supporting tooth like a filling to act as support.
Cantilevered Bridge
A Cantilevered Bridge only attaches to one tooth. This type of dental bridge is often used when there is only one healthy tooth, strong enough to act as a support for the bridge. Because only one natural tooth needs to be used, it is also less invasive.
---
What are dental bridges made from?
Dental bridges can be made from four different types of materials, just like dental crowns.
Dental bridges can be made from:

Porcelain

Gold

Porcelain fused to metal; or

Zirconia
The type of material that best suits you depends on where your tooth is missing and the type of bridge you require, as well as your budget. Dr Wilcox will be able to go through the different options to determine which will best suit you in your initial consultation.
---
Is a dental bridge the solution for you?
Prior to deciding to go ahead with a dental bridge procedure, it is important for Dr Wilcox or Dr Cooke to do a full oral health assessment. This will determine your specific needs, and whether your existing teeth are healthy enough to act as supports for a dental bridge. If they are not, the dentist might suggest looking at other tooth replacement options such as dental implants.
If you have one or more missing teeth, a dental bridge can be a reasonably fast, non-invasive but permanent tooth replacement solution. In cases where your bone is not sufficient to support a tooth implant, a dental bridge is an ideal long term solution. You might have a gap where a missing tooth once was, but your surrounding teeth are healthy and strong, making you the perfect candidate for a fixed dental bridge. Even if your existing teeth are not 100% healthy, Dr Wilcox or Dr Cooke may be able to build up your tooth or teeth to be a strong enough support for a dental bridge, restoring your mouth function and smile.
You could have your new teeth within one week!
Dental bridge procedures are a relatively fast and easy procedure in comparison to some other tooth replacement options. Once Dr Wilcox or Dr Cooke have completed a full oral health assessment, and it has been decided that a fixed dental bridge is the best solution for you, within just two appointments you can have your new teeth.
Preparing your existing teeth
Providing your existing teeth are healthy enough to support a dental bridge, during the first appointment Dr Wilcox or Dr Cooke will prepare your teeth to be fitted with dental crowns. If you need teeth restoration, the dentist will build up your decaying teeth until they are strong enough to support a dental bridge. When ready, Dr Wilcox or Dr Cooke will make a mould of your teeth that will be used to fabricate the dental bridge. A temporary bridge will be fitted to protect your teeth and gums until your permanent bridge is ready.
Cementing your fixed dental bridge in place
Within a few days, your new dental bridge is prepared, based on the moulds made by Dr Wilcox or Dr Cooke at one of Australia's best local dental laboratories. It is important that the bridge fits perfectly onto your existing teeth or you may end up with an ill-fitting, uncomfortable dental bridge. The dentist will cement the new bridge into place, and your new, permanent teeth will be complete.
---
Is the dental bridge procedure painful?
A dental bridge procedure, while relatively simple, can be uncomfortable and even painful. This is why Dr Wilcox or Dr Cooke always discusses your pain relief options with you prior to performing the procedure. Dental bridge procedures are usually performed the the patient under local anaesthetic, so that you don't experience any pain while the dentist is preparing your teeth ready to support the dental bridge.
---
How long does it take to heal after a dental bridge procedure?
A dental bridge procedure is fairly straightforward and pain free. When Dr Wilcox or Dr Cooke have fitted your permanent dental bridge into place, you should be able to use your new teeth as normal within a few days. Your dentist will advise you how to best care for your new dental bridge, including brushing and flossing daily, both around the bridge and between the bridge and gum tissue to prevent bacteria buildup.
---
How much does a dental bridge cost?
The cost of dental bridges, just like crowns or implants, can vary greatly depending on the number of teeth involved and the materials chosen. Outlined below is a guide of what is involved in a dental bridge procedure and an estimate of costs. For an accurate cost estimate, you will need to book an appointment with Dr Wilcox or Dr Cooke to discuss your individual case and a treatment plan that best suits you. At Shore Dental we also offer dental finance plans and are partnered with all major health funds to make your dental care more affordable.
---
What affects the cost of a dental bridge?
Some questions to consider asking before deciding to proceed with a dental bridge procedure include:

Are my existing teeth strong enough to support a dental bridge?

If they're not, can Dr Wilcox or Dr Cooke build my teeth up to support a bridge?

How many teeth are missing?

Which dental bridge best suits my needs?

What material is best for my dental bridge?

How will the type of dental bridge I choose affect the cost and length of procedure?
The number of teeth you need replaced and the type of material chosen for your dental bridge will affect the cost. Some materials offer greater strength and durability, whereas others offer superior aesthetic qualities.
The cost of your dental bridge may look like: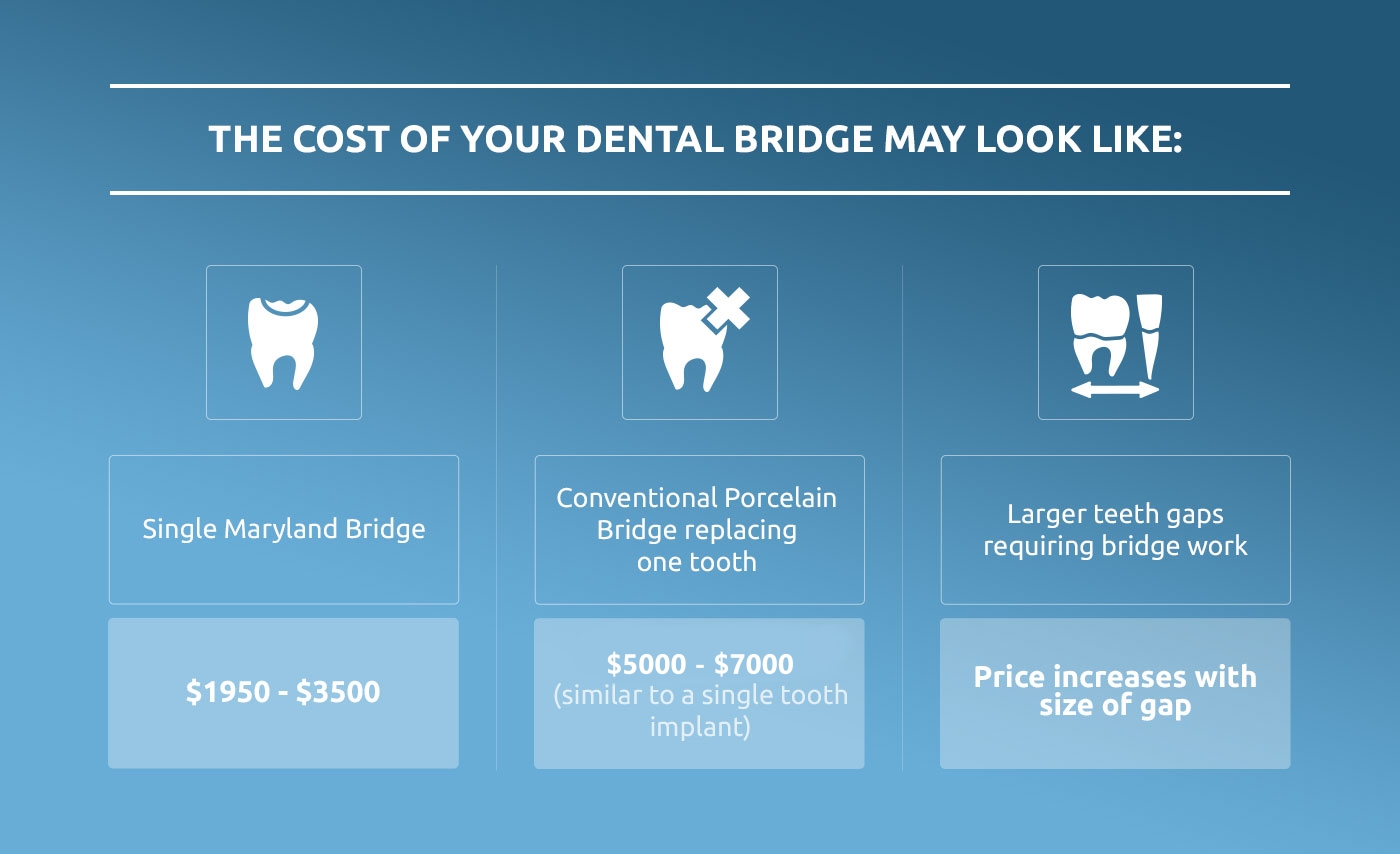 For an accurate assessment of your individual needs and treatment costs, contact Shore Dental to arrange a consultation with Dr Wilcox.
Meet Tom, one of our real Shore Dental patients who recently had dental bridge and crown treatment.
---
Dental bridge patient case studies
These case studies are all Shore Dental patients, whose work was completed by Dr Ben Wilcox or Dr James Cooke at Sydney's Shore Dental. See more in our Smile Gallery.

---

---

---