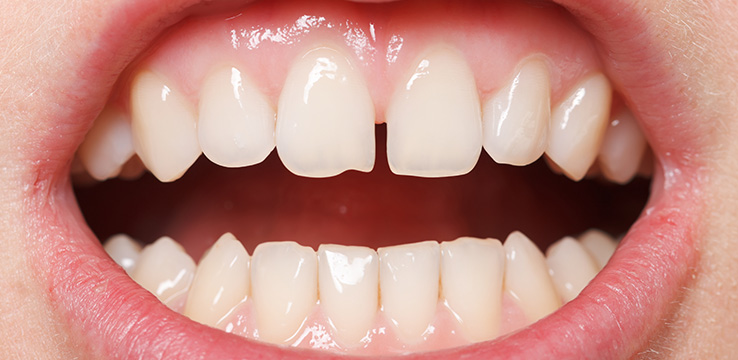 Diastema is the term given to a gap between two teeth. Most commonly diastema occurs between the two top front teeth, though a gap can occur between any teeth. Diastema, commonly called gap teeth or sometimes referred to as black triangles, is often not a health problem, and in many cases only needs to be corrected if you are unhappy with its appearance. If your diastema is the result of a more severe condition such as periodontal or gum disease, it many need to be corrected more immediately. A consultation with your dentist will determine if your diastema, or tooth gap is a health concern.

Gap between two teeth, often at the front

Many cases are not a health concern

Many children have diastema with their baby teeth

Gum disease causing diastema needs to be treated as soon as possible

---
Why do I have a gap between my teeth?
There are a number of reasons a tooth gap might form. Diastema is common in children who have not developed their adult teeth yet. Usually these gaps will disappear as the adult teeth grow into place. When a tooth gap occurs in patients with all of their adult teeth, there could be a number of reasons why.
---
Tooth shape and size causing gaps
A mismatch between the size of teeth and jawbone can either cause teeth crowding or gap teeth - diastema. When the teeth are too small for the jawbone, gaps occur. This is common in children with baby teeth, however it can also occur in adults.
Diastema often occurs between the two top front teeth. This can be caused by a larger than normal labial frenum, which is the tissue joining your top lip to the gums above your teeth. The labial frenum continues to grow downwards, pushing the two front teeth apart.

Teeth smaller than jawbone

Baby teeth often have tooth gaps

Oversized labial frenum forcing front teeth apart
---
Habits leading to tooth gaps
Sometimes a habit developed from childhood can lead to diastema. The common childhood habit of sucking your thumb can misplace your front teeth by forcing them forward, creating a gap in the centre.
More rarely, a swallowing reflex known as tongue thrusting can move your teeth forward, similarly creating a gap. Usually, when swallowing, the tongue pushes against the roof of the mouth. In this case, however, the tongue forces forward against the front teeth, overtime moving them out of place.
---
Tooth gaps caused by gum disease
The most concerning cause of diastema is periodontal disease. Commonly referred to as gum disease, periodontal disease is the deterioration of jawbone supporting teeth. As your jawbone recedes, your teeth can become loose and move out of place, gaps forming as they do. To prevent gum disease and teeth gaps from progressing - as well as a host of other health problems - it is important to take good care of your teeth and gums. Good oral hygiene habits and regular appointments with your dental hygienist will help to improve your oral health.
---
How to fix diastema
There are a number of procedures dentists use to correct gap teeth, and often the best solution is a combination of two or more treatments. The cause of your diastema, its size and location are all factors Dr Wilcox will consider when developing a treatment plan for you.
Orthodontics and Invisalign
A common and effective solution for treating diastema, along with other dental conditions is orthodontics. Even if a diastema is the only dental condition you have, a full set of braces, or Invisalign mouthguard is required. This is because any movement, even slight, in the mouth can affect your entire jaw, potentially causing other, more severe dental health problems. When diastema is caused by an oversized labial frenum, a simple surgical procedure called a frenectomy removes the excess tissue. In your consultation Dr Wilcox will discuss if this, usually combined with orthodontics, may be a suitable option for you.
Orthodontic treatments for diastema include:

Traditional braces

6 month braces

Invisalign braces
Veneers and fillings
Some cases of diastema, perhaps due to poor oral health, are not suitable for orthodontics. In other cases further treatment is required following the orthodontics. Following a full oral health assessment in your first consultation, Dr Wilcox will advise you of the best treatment plan for you.
In many adult cases of diastema dental veneers and tooth fillings are used to complete your treatment. Sometimes even the straightest teeth still have gaps called black triangles, meaning teeth need modification to their shape and proportion. This is usually treated with veneers. Veneers and fillings are also used to correct gaps that occur as a result of gum disease or receding gums.
---
Closing the gaps patient Case Studies
These diastema case studies are all Shore Dental patients. The work has been completed by Dr Ben Wilcox or Dr James Cooke at the Shore Dental practice. For more real Shore Dental patient case studies, see our Smile Gallery.