Rethink Sugar: The Dentist's Point of View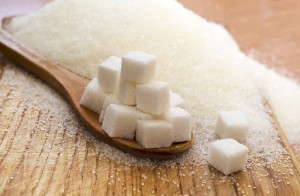 Image via Shutterstock.
What's in a standard can of soft drink? A bit of carbon that gives the drink its nice fizz, and the sweet, sweet taste of ten entire teaspoons of sugar. In that one can of soda, you're more than likely drinking your entire daily recommended amount of sugar and wreaking havoc on your teeth – but that's not even the worst part of it all. Drinking just one can of soft drink per day can make you five kilograms fatter a year, which is all too grossly explained in the following Rethink Sugary Drink campaign, that was launched in Victoria this week.
http://www.youtube.com/watch?v=juDY9lW8Vhc
The contents of a can of soft drink, a bottle of sports drink or a can of energy drink have enough acid and sugar in them to cause truly detrimental effects on your teeth, attacking the tooth enamel and causing decay.
Too much sugar also increases your chance of getting Type 2 diabetes, heart disease and some cancers. Children who consume more than one serving of sugary drink per day – just 250mL – are 26% more likely to become overweight or obese.
With more than 60% of Australian adults being overweight or obese, it's time to change our attitudes towards sugar, Sydney. Instead of having soft drinks or energy drinks to quench your thirst, opt for water or reduced-fat milk or unsweetened drinks instead. Soft drinks should be a very occasional drink, not a daily staple. Start with filling a bottle of water and taking it with you when you leave the house every day, so that you're not tempted into buying a soft drink while you complete the day's tasks. Do the same for your children. Small changes have big effects, which will be better for you and your family in the long run.
For more information, visit Rethink Sugary Drink: http://www.rethinksugarydrink.org.au/