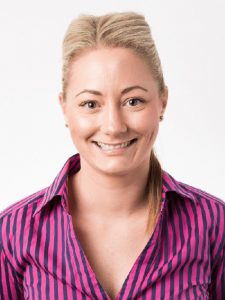 Jenna Hickey
Registered Dental Hygienist and Therapist, Bachelor of Oral Health.
Jenna studied for her Bachelor of Oral Health degree at the University of Queensland where she also won an academic achievement – The R J Pyle Memorial Oral Health Prize. Her qualification covers the dual role of Dental Hygienist and Dental Therapist allowing her to provide expanded services within our practice. Jenna is specifically trained in the prevention of gum disease, the promotion of oral health, education of patients to maintain a healthy smile and the achievement of optimal oral health for all patients.
During 2015/16 Jenna worked for a Periodontal and Implant Specialist Practice in Brisbane alongside three specialist periodontists. In that time she gained experience in implant maintenance and periodontal therapy. She is passionate about the field of periodontal disease and provides not only general dental hygiene treatment, but also periodontal therapy. Jenna also currently works one day per week at an orthodontic practice where she assists the specialist in orthodontic treatment and procedures. Jenna's dual training degree also allows her to provide general paediatric dentistry to patients up to the age of 18 years, and she is particularly interested in the early detection of childhood decay.
Jenna is committed to preventative dentistry and improving patient comfort and wellbeing. She is registered with the Dental Board of NSW, is a member of the Dental Hygienists Association of Australia, Australian Society of Periodontology and the Australian Dental and Oral Health Therapists Association. She enjoys keeping active, yoga, half marathons, beach activities and travelling.