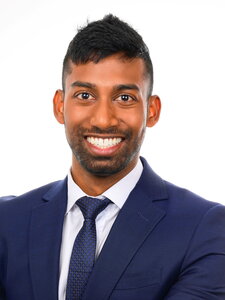 Dr Trishin Seetharam
BDSc (UWA), MClin Implants (LLU - Los Angeles).
Trishin graduated from the University of Western Australia in 2012 with a Bachelors in Dental Surgery. He honed his skills by working at one of the largest private practices in Perth for several years. To be at Shore Dental he brings a dedication to excellence in dentistry, to developing his skills further and providing the best care possible to patients. He is very knowledgeable and has extensive experience in general, cosmetic and surgical dentistry. You will find his approach as one that is gentle, relaxed and informative with his willingness and capability to go above and beyond for each and every patient.
Trishin's passion for cosmetic and implant dentistry led him to complete the gIDE Master Clinician Program in Implant Dentistry at Loma Linda University in Los Angeles as well as the Malo All-on-4 implant training program. He has also advanced his skills in orthodontics with Invisalign Australia and facial injectables with the ORIS Medical's program at the Royal College of General Practitioners in London.
Trishin was born in South Africa, grew up in New Zealand and then moved to Newcastle during his high school years. Trishin enjoys playing soccer socially and is naturally a fan of cricket and rugby. Studying at the University of Western Australia, Trishin discovered he enjoyed the sunny west coast so much he stayed for many years before moving back to Sydney to be closer to his family. Like most of us, Trishin is keen to travel again when possible, and his wish list includes, Japan, Hawaii, Iceland and a dental volunteer program in India.
Until then, it's the simple beach life, walking West Head tracks and hiking further afield when he can. He's an avid photographer and first to sign up for a wine tour. WA has made him a lover of Margaret River reds and now in Sydney with summer months ahead he's dabbling in Hunter Valley semillions.
Behind that unmistakable huge smile you'll find him a gentle personality and easy to talk to.